History
Capitola Village by the Sea is one of the oldest vacation retreats on the Pacific Coast. Before the resort was founded, Soquel Indians lived here for more than 2,000 years. After California statehood, the mouth of the Soquel Creek became a shipping point called Soquel Landing. Santa Cruz County pioneer Frederick Hihn bought the land in 1856 and built the first wharf. In 1882 Hihn subdivided lots and built cabins, a skating rink, hotel, theater and bandstand. Visitors came by car and on the Santa Cruz-Watsonville train. With a 160 room hotel, Capitola Village was the premier coastal resort, winter and summer. 
Capitola is California's oldest seaside resort town and continues to be a popular spot for those looking for a picturesque, quaint and relaxing vacation destination. Capitola has a unique charm with its beautiful beaches and historic and colorful architecture, reminiscent of a Mediterranean village. The perfect spot to visit year round, you will find an idyllic sleepy beach town in the Winter months and a bustling beach destination in the Summer months. There are many special events each year including the Capitola Art and Wine Festival, the Capitola Beach Festival, Holiday Open House and Tree Lighting, Wharf to Wharf Race, Hot Rod and Custom Car Show and more…
Most of all, it is just fun to walk around and explore our eclectic mix of boutiques and restaurants. You will find unique gift shops, wine tasting rooms, galleries, apparel shops, surf shops, and more! Relax on the beach or get a little more adventurous and learn to surf or paddleboard during your stay, you can even rent a boat to explore the bay.
There are many types of accommodations to choose from, including beach houses, hotels and bed and breakfasts. Whether you come for the day, weekend or decide you never want to leave, Capitola Village has earned a special place in many people's hearts and is likely to find one in yours too.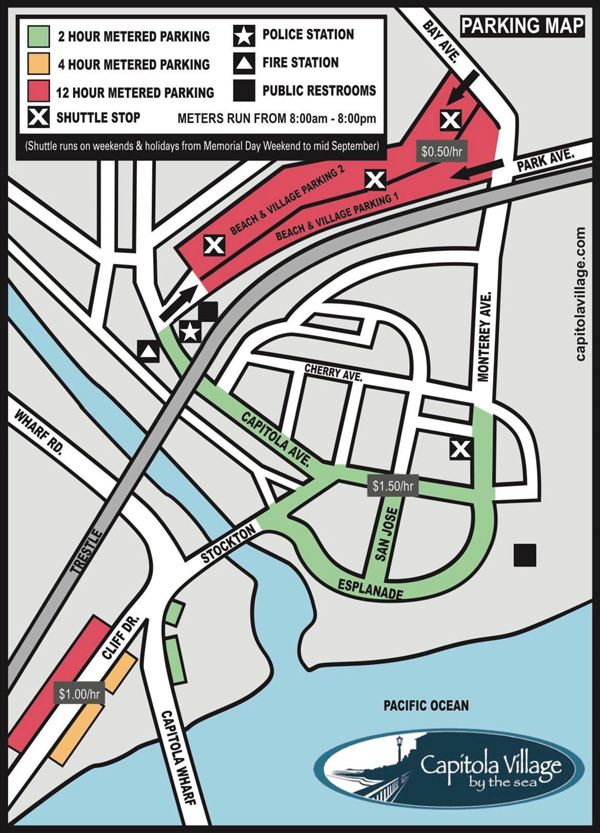 Capitola Village & Wharf Business Improvement AREA
Chair
Anthony Guajardo,
Mijo's Taqueria
Vice Chair
Craig Nunes,
Venetian Residences Short-Term Rentals
Communications Manager
Todd Hanson,
TransparentSea Media
City Council Liaison
Kristen Brown
Membership Secretary
Carin Hanna,
Craft Gallery
Treasurer
Devon Salter,
Capitola Reef
Village Ambassador
Robin Hanson
Village Webmaster
Craig Nunes,
Venetian Residences Short-Term Rentals
Annmarie Conrad, Capitola Wine Bar and Merchants
Janelle Cox, Venetian Residences Short-Term Rentals
Josh Fisher, Left Coast Sausage Works
Evelyn Flores, Venetian Hotel
Mike Gardiner, Venetian Residences Short Term Rentals
Kathleen French, Katalina's Boutique
Vicki Guinn, David Lyng Real Estate
Leslie Nielsen, Cliff Drive Short-Term Rentals
Kim Tush, Santa Cruz Balsamics
Sharolynn Ullestad, Tony Pagliaro Gallery